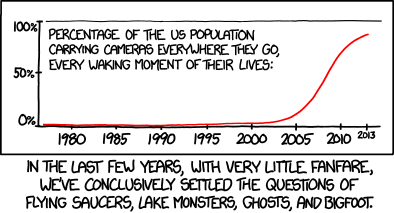 "We've relentlessly outfitted just about everyone with a pocket-sized video camera. And as we've done that, the UFOs have stopped visiting us." – Seth's Blog
Too lazy to search for the impact that phones (is there any reason to call them mobile anymore?*) have had on, say, the need to explain why a character doesn't just make a phone call in a thriller – "Oops, no service…" and the clever reversal of that and its dramatic repercussions in the To'hajiilee episode of Breaking Bad – but the disappearance of the non-existent (imho) flying saucer has been dramatic, and seems to have been replaced with our desire to spot the lurking menace amongst us, whether real or imagined, from bombers to the slender man.
*Recently lent my 94 year old neighbour my landline phone when her's broke and didn't miss it; it hasn't been plugged in for the last few years.